Become a member of the Preston Center!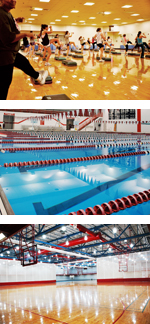 The Raymond B. Preston Health & Activities Center offers a wide variety of facilities and services dedicated to promoting health, fitness, and FUN!
As a member of the Preston Center, you will have access to our fitness facilities, open recreation area's, group fitness classes, indoor walking track, pool, and locker rooms.
Please choose from the membership options listed on the left side of the screen that best suits your affiliation with WKU. We look forward to having you as a member!
Contact Information:
For more information regarding memberships and/or questions about our services offered, please contact our Office Coordinator, Becky Sims, at (270) 745-6061 or visit the Intramural-Recreational Sports office located on the second floor of the Raymond B. Preston Health and Activities Center.
WKU ID Card Information:
A WKU ID card must be presented to the front desk staff to gain access to the facility. Individuals who are not enrolled as students and are not employed by the university will be issued a "Preston Only" membership number from our office. Once this number has been assigned, it is the member's responsibility to take a copy of the application to the ID Center located in room 126 of the Downing University Center, to have an ID made. "Preston Only" ID's cost $10.
Parking Information:
Preston Center members who are not enrolled as students and are not employed by the university are eligible to purchase a Preston Center parking permit at a fee of $10.00 per semester. (Fall Semester, Spring semester, and Summer semester). The parking permits must be purchased at WKU Parking and Transportation. For further details regarding "Preston Only" parking permits, please contact Parking and Transportation at (270) 745-2361