At WKU, we strive to utilize sustainable, best practices, such as, water conservation, storm water management and lower combustion engines, while maintaining the highest level of aesthetic and appeal possible. Campus services have replaced all of our gas burning riding mowers with lower emission, bio-ready diesel mowers. We are incorporating more drought resistant, native plant xeriscapes, rain garden and habitat gardens. Native plants attract a more diverse array of native animal species, further increasing biodiversity within the campus landscape. We are harvesting rainwater, using organic pesticides, such as neem oil, in our greenhouses. In many of our gardens we have mulched with gravel rather than organic mulches. Gravel will not break down and increases water infiltration to the soil.
| | | |
| --- | --- | --- |
| | | |
| Native Coneflower and Rattlesnake Master | | |
The philosophy behind our xeriscape garden is that they require no supplemental watering, have gravel mulch and of course since we use native plants in these gardens we are providing food habitat for habitat for many birds, insects, and reptiles. These gardens will become part of our Green Tour in an effort to educate the campus community and visitors about these practices.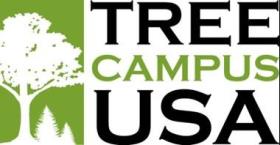 Sustainable Campus Features