Fall 2014 opens 8/20

Wellness Resources:
Event Information
RED: Reality of Eating Disorders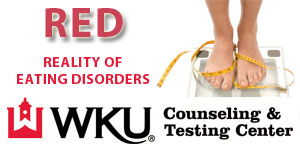 Date:
Monday, February 25th, 2013 - Monday, February 25th, 2013
Location:
DUC Auditorium
Event URL:
http://www.wku.edu/heretohelp/
You must attend this event 1 time before completing this event.
Description:
Time: 7pm
Join Guest Speaker: Jordan Hudson, an eating disorder survivor as she talks about teh reality of eating disorders.
For more information contact Betsy pierce @ betsy.pierce@wku.edu
This is a swipeable Event!!