Registration begins January 26th!

Wellness Resources:
Event Information
Body Weight Bootcamp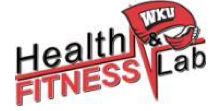 Date:
Monday, November 4th, 2013 - Friday, November 8th, 2013
Location:
Preston Center Multi-Purpose Room
Event URL:
https://www.wku.edu/healthfitnesslab
You must attend this event 1 time before completing this event.
Description:
Body Weight Boot Camp
Register now through November 1st
Student: $40
*$5 off returning bootcampers
Monday and Wednesday
4:45-5:45pm in the Preston Center Multi-purpose room
Come to the Health and Fitness Lab for more details!