Contacts
Amy Fitzpatrick

Coordinator, Graduate Programs
Department of Kinesiology, Recreation and Sport
amy.fitzpatrick@wku.edu
(270) 745-2710
Related Links
Facility and Event Management Graduate Certificate
WKU's department of Kinesiology, Recreation and Sport now offers a 100% online graduate certificate in Facility and Event Management. This 12-credit-hour graduate certificate focuses on practical skills needed for employment in the rapidly growing field of Facility and Event Management. Recreation and sport professionals with skills and experience related to Facility and Event Management are extremely employable and this certificate can be obtained through online courses on a part-time or full-time basis!
Examples of professionals who can benefit from this certificate program include the following: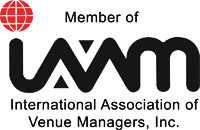 WKU is a proud partner of IAVM.
Municipal Park and Recreation Employees
Collegiate and Professional Sport Facility Managers
Convention and Conference Center Employees
Facility and Event Security Personnel
Aquatic Facility Managers
Golf Course Personnel
Stadium and Arena Managers
Athletic Coaches/Administrators
Campus Recreation Employees
Event Planners
Motorsports Personnel
Shooting Sports Employees