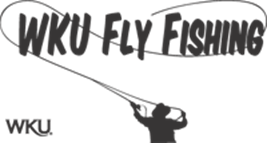 Information for:

Non-credit Workshops
Fly fishing is a wonderful and satisfying activity, but some quality instruction can go a long way in helping you get started. Our workshops are designed with the beginner in mind so don't worry if you don't have any experience.
Note: If you are interested in scheduling a fly fishing related workshop for a group at a time not on the schedule, please contact WKU Lifelong Learning
How is fly fishing different than other types of fishing?
Is there anywhere around here to fly fish?
What kind of fish can I catch?
How is a fly rod and reel different than other fishing equipment?
What do I need to know about buying equipment?
How do know what flies to use?
And answers to other similar questions.
Fly tying kit and tools are included with the workshop fee.
Basic proficiency in using fly tying tools
Basic fly tying techniques
Application of techniques by tying several different fly patterns
Knowledge of how the flies should be used
Personal instruction
Properly identify the parts of the fly fishing equipment
Properly assemble the fly fishing equipment
Demonstrate the primary casts used in fly fishing (forward, back, false, roll, side, S)
Discuss the casts and their proper usage