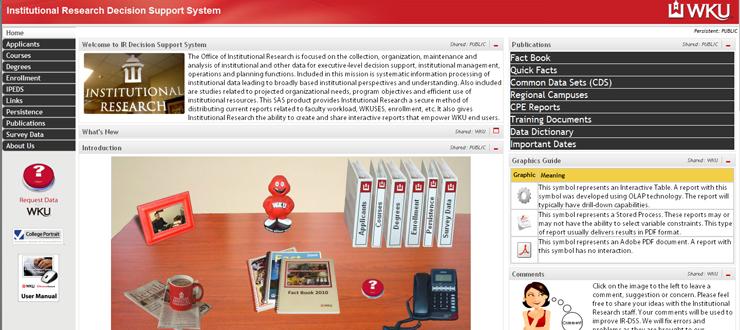 Institutional Research Decision Support System (IR-DSS)

The goal of IR-DSS is to provide on demand access to timely university data using a secure authentication protocol. Access to the system is restricted to WKU personnel with a legitimate need to access detailed academic data for policy analysis and decision making. Please contact the WKU Office of Institutional Research to request access and/or receive training.

IR-DSS is best viewed using Internet Explorer 7 or 8 and Firefox 3.0.6 or above. Previous versions of Internet Explorer and Firefox may cause reports and dials to display incorrectly. Safari is not supported.

Training Documents









Access to IR-DSS



IR-DSS is restricted to WKU Faculty and Staff who have been granted access by Institutional Research. Please click here to request access. After receiving your request for access, we will be in contact with you to schedule a brief training session that will help you get started in the system.


Lookup My Net ID
Reset My Net ID Password

IR Systems Status




IR-DSS

SAS Enterprise Miner 7.1