Volunteer for the Kentucky Museum. We need you!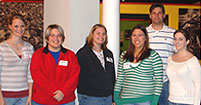 If you are between the ages of 14 and 99 the Kentucky Museum needs you! Volunteers help in a variety of areas including:
Special Events
Work a two hour shift at one of our many special events throughout the year such as Pioneer Day, US Bank Art Show, or Christmas in Kentucky. Duties are as diverse as registering participants, taking photographs, or guiding Big Red around the museum! Special events are always festive and fun.
Exhibits and Collections
Work with our Exhibit Curator or Registrar/Collections Curator to research, photograph, or prepare items for exhibit from our many extraordinary collections.
School Field Trips
Work a two hour shift assisting with one of our many large school field trips. Children engage in a variety of hand-on activities throughout the museum and an extra pair of adult hands is always needed! Students and teachers are always so appreciative for the extra volunteer support.
Camps
Work with one of our outstanding spring, summer, or fall break camps. Assist one of our staff members with art and history programs as campers explore that week's theme. Camp is always a blast!
To Become a Volunteer:
Step 1
Complete a brief volunteer form. Applications are available for download here: PDF file. Save completed application and email document to timothy.mullin@wku.edu.
Step 2
Completed application will be forwarded to point of contact for your expressed area of interest. A representative of that area will be in contact.
Step 3
Commitment. We count on our volunteers to work the dates and times scheduled. Our volunteers are always professional.
If you have any additional questions, please contact:
Timothy Mullin/Museum Director, (270)792-5353.
Benefits of Volunteering
Helping the Community
The Kentucky Museum is visited by thousands of area children and adults each year for a variety of services and programming. The special talents and commitment by our volunteers contribute to the success of those services and programs. It is only with the assistance of dedicated volunteers that each patron can have a worthwhile experience.
Volunteer for the Kentucky Museum today!