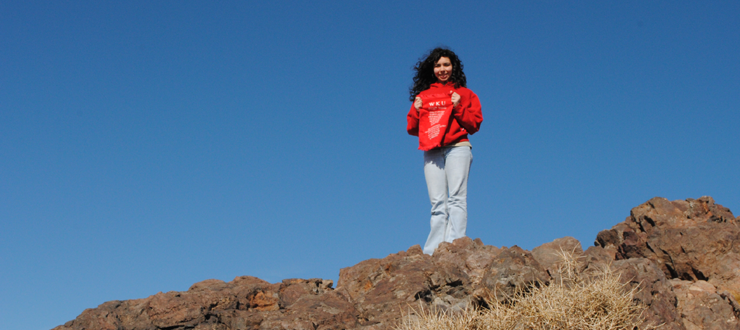 APPLICATION PROCEDURES
Carefully complete the application!
The application requires essential information, including biographical information needed for our records, which will tell us how we can contact you.
You must identify the exchange term and duration you desire. If there is a possibility that you will stay for the full academic year, you should indicate that. It is very difficult to extend an exchange into another semester if it was not requested at the time of placement.
You have been given several lines to list possible exchange sites in preference order. If you have additional choices, contact the WKU NSE Coordinator after you've completed the application. DO NOT list any campus that you would not attend if placed there. While we will try to place you at your first choice campus, we cannot guarantee it and you may be placed at a second or third choice.
Make sure that you list the names and telephone numbers of people from whom you request references. You should maintain contact with the Study Away NSE Coordinator regarding the status of your references so you can ensure that they arrive by the application deadline. It is preferable to have family support; therefore, where applicable, a reference from your parents or other relative that highlights your personal development is welcomed.
Be specific and thorough when completing the Program of Study Statement. It is your chance to tell us exactly what you want to accomplish on the exchange both academically and personally. Notice that it requires the signature of your Academic Adviser.
A $200 non-refundable application fee is required to complete your application. No application fee refunds are given regardless of whether you are placed, accept a placement, or are satisfied with your placement.
However... you don't pay your application fee until we've reviewed your application and you are ready to move forward.
So go ahead and start your application on TopNet right away to get rolling.
When your application is complete, you must schedule an interview with the WKU NSE Coordinator. It will be a chance for us to review your application with you and for you to ask questions about NSE that have emerged since you began the application process.
The Study Away NSE Coordinator will go over your application with you on an appointment basis ONLY. Please contact the Study Away NSE Coordinator to schedule an appointment. All application materials, including references, program of study statement, and application fee, must be turned in to WKU NSE Coordinator by the deadline to be considered for the 2013-2014 exchange year.
Refund Policy: No application refunds are given regardless of whether you are placed, accept a placement, or are satisfied with your placement.
The NSE website provides the most detailed information about all of your exchange opportunities.
---
Spring 2016 Application Deadline
For Spring 2016:
October 1, 2015
Exchange options become more limited the longer you wait!
2016-2017 Application Deadlines
For Academic Year 2016-2017:
February 14, 2016
For Fall 2016:
February 14, 2016
For Spring 2017:
February 14, 2016
Application Items
Interview:
Required after application complete
Application Fee of $200
Required after interview
---
Advising and Guidance
For individuals or groups to get you rolling with the NSE process, set up an appointment with the WKU NSE Advisor.

Office: Tate Page Hall 104

Phone: 270-745-4512
---
The information on this website is provided for your convenience, but the WKU NSE Student Manual is the official source for all guidelines, rules and procedures for decisions related to your participation in NSE. It is expected that you will review this handbook.
WKU is not liable for accidents or injuries sustained in transit to host schools or during the exchange program. Make sure you have adequate major medical insurance coverage. WKU is not liable for any dissatisfaction with an exchange placement or experience.
---
Get the NSE iphone app. click logo.