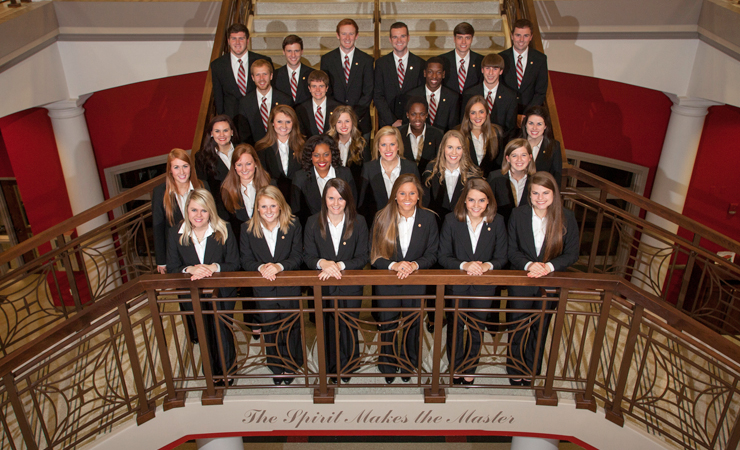 WKU Spirit Masters
Western Kentucky University's Spirit Masters originated from a trip Dr. Carl Kell, Professor of Communication, WKU Signmade to the University of Alabama. While visiting, Dr. Kell met a group of student ambassadors. Impressed by these students, Dr. Kell brought the idea back to Western's Interim President, Dr. John Minton, with hopes of establishing a similar group.
Eventually, Dr. Kell and Nada McGuiness developed the student ambassador group known today as Spirit Masters.
The original group was selected in the spring of 1981. The twelve men and twelve women selected were officially presented to the University that spring. The name of the group was taken from the University's motto: "The Spirit Makes the Master".
MISSION
Spirit Masters are the official ambassadors of Western Kentucky University. Spirit Masters ensure an extra measure of hospitality at WKU, making visitors feel that they have experienced a truly exceptional place. Providing a warm reception for guests, Spirit Masters communicate to them a better understanding of all aspects of the University. In that capacity, the Spirit Masters' primarily work is to assist the administration, alumni and community during functions held on and off campus. Spirit Masters welcome every opportunity to promote WKU and exemplify the University's motto, "The Spirit Makes the Master."
SPIRIT MASTER REQUEST
To request a Spirit Master for your event, please submit the Spirit Master Request Form.
Upcoming Spirit Master Events