Students like the white squirrel t-shirt.
Classes begin
Wednesday, January 2, 2013
Final Exams
Friday, January 18, 2013
Visiting Students
Visiting Undergraduate Students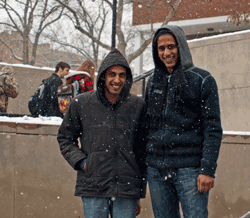 A student attending another college or university may apply as a visiting student to Western during the Winter Term. Upon receipt of the application for admission, the Office of Admissions will send the applicant a transient permission form to be completed by the registrar or dean of the home institution.
Visiting students must be in good standing at the home institution. Since visiting students are not pursuing a degree from Western, they are not eligible to receive financial aid through Western.
WKU Admissions Dept • Admissions application links
Visiting Graduate Students
• Apply online, submit the $40 application fee, and submit your undergraduate transcript
• Mark as non-degree seeking student
For more information, contact the WKU Office of Graduate Studies and Research
1906 College Heights Blvd. #11010
Bowling Green, KY 42101-11010
Phone: 1-270-745-2446
Fax: 1-270-745-6950